The First Step To Better Your Health 
We will guide you through each step of our 5 step process of becoming a new patient. Please feel free to reference this section, or our entire website at any time of your new patient process.
Step 1
We strive to make your first visit to our clinic a comfortable experience. Our chiropractic assistant will welcome you and ask you to complete our health questionnaire. This form will give us important information about you, your present complaint and your health goals. You will then be asked to watch an orientation video which will help you understand better our role in the clinic and what Chiropractic can really do for you and your family.
---
Step 2
A MyoVision sEMG scan will be performed in the standing position to help us better asses your spinal health function. This will also give us objective findings that can then be compared during your re-exam.
---
Step 3
We utilise Computerised Postural Assessments and take 2 pictures of you to asses your postural distortions, which shows you an in depth analysis report with degrees of deviations from the norm. This allows us to show you clear PRE and POST reports showing improved posture.
---
Step 4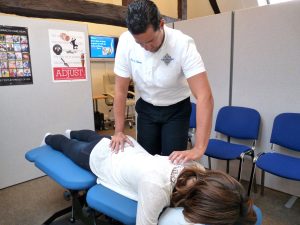 Your Chiropractor will then spend sometime asking specific questions about your present complaint to determine if chiropractic care is right for you. Your Chiropractor will give you a chiropractic examination, such as testing your ability to turn and bend, your reflexes, and other standard postural, neurological, orthopaedic, and physical examinations. This important information will allow your Chiropractor to have a better understanding of your present health and how chiropractic can help you. If needed your Chiropractor may refer you for an MRI or to your GP for further testing.
---
Step 5
After all the information including exams, forms, Computerised Postural Assessment, and the MyoVision scan is complete then your Chiropractor will give you a report of findings and explain the treatment plan that is right for you on your second visit.