Arthur Tovar, D.C. CCSP, Bsc, Hons, (USA)
Co-owner and founder of Thame Chiropractic Clinic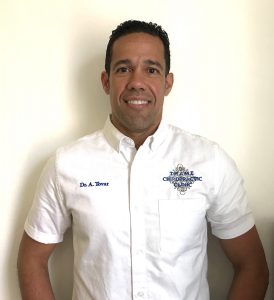 Arthur Tovar, Doctor of Chiropractic, (D.C.) graduated Magna Cum Laude (hons) from Sherman College of Chiropractic in South Carolina, USA with the degree Doctor of Chiropractic and also holds a Bachelors in Science. Arthur has done post-graduate studies holding Certification in Craniopathy with SOTO USA (CCSP), Advanced proficiency in Sacro Occipital Technique (SOT) with SOTO Europe and Basic proficiency in SOT with Sorsi. He previously practiced in Boston, MA (USA) and then moved to Oxford UK, where he has been self employed at Oxford Chiropractic Clinic in Headington for 6 years. In April 2013 Thame Chiropractic Clinic has been established together with Beatrice his business partner.
As a Chiropractor Arthur looks for the cause of the problem and focuses on the correction of vertebral subluxations thus allowing the body to work free of nervous system interference and allowing it to work at its fullest potential. He also has a passion in working with expecting Mum's and children and is a member of the ICPA (International Chiropractic Paediatrics Association).
My mission is to empower people to find their innate healing potential and release their inner doctor to express true health. The reason we all have symptoms and ill health is because we have lost something which is true health and we can recover it by allowing free communication between our brain and body. As a vitalistic chiropractor my focus is to detect and remove vertebral subluxations in your spine so that you can fully express life.
Certifications
Board Certified Craniopath (SOTO USA)
Advanced proficiency in SOT (Soto Europe)
Basic proficiency in SOT (Sorsi)
Advanced Training in Applied Kinesiology
Certified Postural Expert
Sympathetic Dominance Protocol Practitioner
American National Boards exams part: I, II, III and IV plus Physiotherapy boards
Memberships
ICAK UK member (International College of Applied Kinesiology)
SOTO USA member
ICPA member (International Chiropractic Paediatrics Association)
Beatrice Tovar, Board Certified Holistic Medicine Practitioner
Co-owner and founder of Thame Chiropractic Clinic
Beatrice Tovar BBA (Hons) Business Administration, MSc (Hons) International Marketing and Events. Beatrice graduated honours in Business Administration and with a Masters in Marketing and Events. Before establishing Thame Chiropractic Clinic, she gained over 16 years of successful business experience in the Sports Marketing Industry. Besides her professional life, and due to a high demanding job and extensive business travelling in the past, she used to suffer from recurring neck pain and vertebral subluxation (nerve interference in the cervical spine), where she experienced the power of Chiropractic as a patient first hand.
"Health is dependent on balance, structure, metabolism & psyche."
I harbour an endless curiosity about what makes for vibrant health. This curiosity has nurtured a quest to learn what's shaking up the world of wellness and health – our physical health, our emotional and mental health and our chemical health.
As a graduate in Business and Marketing, and having previously led a fast-paced, successful career in Sports-Marketing, I always felt my true calling in helping people and making a positive difference in their health and lives. I have always been fascinated and inspired by people – by what makes us tick, and how we can maximise our contentment, effectiveness and engagement in this complex and challenging world. By slowing down to savour the richness of our lives and moving our bodies with intelligence and pleasure, we can uncover our most authentic selves: strong, passionate, resilient, calm, focused and joyful. We can open to a whole new world of possibilities for the body, for our mental abilities, our relationships and our lives. 
Modern life can be stressful – living with increasing expectations and ever growing demands. Taking care of our well-being has never been more important than it is today. Our natural state is one of vibrancy and our potential is unlimited. My approach stems from this fundamental understanding. I work with people to function at their best – to reconnect and find good health, balance and happiness.
Certifications
Certified Advanced Applied Kinesiology Practitioner, Applied Kinesiology AK (ICAK)
Certified Advanced Kinesiology Practitioner, Touch for Health Kinesiology (TFHK) (IKC)
Certified Craniosacral Therapist
Certified Naturopath CMA
Certified Holistic Massage Therapist
Certified Holistic Counsellor (Neuro Linguistic Programming NLP)
Certified Life Coach 

                                                             

KOREN SPECIFIC TECHNIQUE (KST) Advanced Level – KST is a healing protocol used to locate and correct/release areas of blockage, distortion, subluxations, interference, stagnation and other stresses in the body and body/mind

   

   

ITEC Level 3 Diploma in Anatomy, Physiology and Pathology
NCFE Level 2 Certified in Fitness Instructing

 
Memberships
IKC (International Kinesiology College)

 

ICAK UK (International College of Applied Kinesiology)
Kinesiology Federation UK (KF)
The Royal Society of Medicine (RSM)
International Practitioners of Holistic Medicine (IPHM)
The Register of Exercise Professionals (REPs)

                                                   

International Institute for Complementary Therapists UK