Arthur Tovar, D.C. CCSP, Bsc, Hons, (USA)                                               Clinical Director and Owner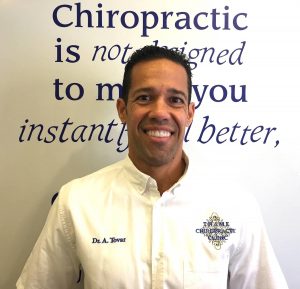 However, she always felt her true calling in helping people and making a positive difference in their health and lives. 
"Health is dependent on balance, structure, metabolism & psyche." I harbour an endless curiosity about what makes for vibrant health. This curiosity has nurtured a quest to learn what's shaking up the world of wellness and health – our physical health, our emotional and mental health and our chemical health.  
Certifications
Certified Applied Kinesiology Practitioner, Applied Kinesiology AK (ICAK)
Certified Kinesiology Practitioner, Touch for Health Kinesiology (TFHK ) (IKC)
Certified Holistic Massage Therapist

 

Certified Holistic Counsellor

                                                                                           

Certified Life coach

                                                                                                         

Certified Neuro Linguistic (NLP) Practitioner

                                                                 

KOREN SPECIFIC TECHNIQUE (KST) Advanced Level – KST is a healing protocol used to locate and correct/release areas of blockage, distortion, subluxations, interference, stagnation and other stresses in the body and body/mind

   

     

VTCT Level 3 in Anatomy, Physiology and Pathology

                                                     

NCFE Level 2 Certificate in Fitness Instructing

 
Memberships
IKC (International Kinesiology College)

 

ICAK UK member (International College of Applied Kinesiology)
International Institute for Complementary Therapists UK

                                         

(REPs) The Register of Exercise Professionals

                                                   

International Practitioners of Holistic Medicine (IPHM)